Tom Mandera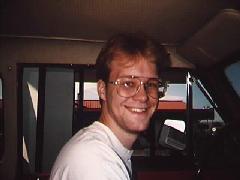 Me, sitting in my truck on our vacation last summer to Seattle.
That's me in August of 1993 (it's actually my Senior Picture from Highschool). Tom Mandera. The guy that runs this whole show.. :-) Well, I guess I should get on with it and let you know a little bit about myself. Oh, and don't forget to take a look at my IHC Scout IIs
I've been talking about it to a lot of my friends for years.. well, here it is... Daisy Duke kissed me!