Tizer Lake - 6/12/1998
Friday morning, it was time for me to take a new trail I hadn't been on. My friends had been telling me about this tough Tizer Lake trail for several years, but I'd never had the opportunity to explore it. I signed up to give Steve Slagle a hand in mana ging the crew.
We set the CBs to channel 7, and our 20-ish rigs rolled out of the Boulder Fairgrounds around 7:15am. Milo was in front of me in his '60s IH Travelall. A very nice couple from Great Falls were behind me in their 302(??) powered "FRDZLLA" Toyota LandCrui ser. Bill Springer of Billings was our tailgunner in his late-model 4Runner.
Steve had us all call out our names, rig, and where we were from as we drove down the Interstate north to Jefferson City, and then turned off to the Frontage Road and doubled back a little bit, and followed the road off to the east and into the trees. Af ter passing a rather confused local on her way to work (I often wonder what "normal" people think when a line of modified 4x4s come rolling by...), we crossed two small bridges, and Steve pulled us off to the side of the road in a large clearing. A head count was taken as we aired down n' locked up.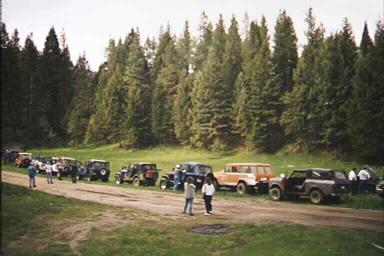 Airing down n' counting heads
Head count accomplished, we drove on into the thick of things. The Tizer Lake trail is a slow going rocky trail, with decent sized mud holes thrown in all over the place. The trail crosses the path of a stream numerous times.
The lower section of the trail had plenty of mud holes to drive through, with some tree roots and some rocks to drive over and around.
Right as I was crossing a mud hole, FRDZLLA came to a halt behind me with a radiator hose that had lost a clamp. I backed up to lend a hand, but everything was under control. The hose was re-clamped, and Bill Springer topped off the radiator with about 2 and a half gallons of water. All was well, and we continued on.
As we worked our way towards the lake, and climbed, the trail got less and less muddy, and more and more rocky. Lots of rocks. I recall one sheer rock face that needed to be scaled.. I placed my two front tires against it, and then let the Lockright pul l me right up n' over.. that was fun!
We reached a 4-way intersection of the trail. Steve took us on the right trail first, which took us through the stream, and into a circular clearing among the trees, with a view of the upper Tizer Lake. We paused for a bit, then drove back down the trai l, coming to the 4-way again, and this time turning right up the hill.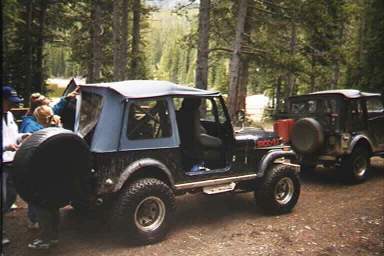 The IROC-ZJ at the first stopping point, near the lake. An IROC Z/28 donated the drivetrain to this built Jeep
The "right" trail took us up and over several hills, then winding down into another clearing, with an abandoned mine. Just like Steve had promised, it was around 12:30, and we broke out lunch... only for it to start raining!
Packing things up, we drove back out.. just before we drove back to the 4-way intersection, we had to stop - the two bolts that are supposed to hold my driver's side front shackle in place had lost their nuts, and the shackle had then folded rearwards aga inst my frame! d'oh. I had a spare with me, but I needed two.. out came my impact wrench, on came the on-board air, and I was cannibalizing my rear shock mount again.. it took a little doing, but we got it back together, but not until after I noticed I was missing one half of my new spring bushing.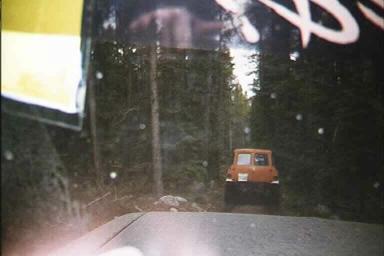 Following behind Milo on the way out
We then crawled down n' out on the same trail we took in. I think it was the sheer rock that I'd climbed coming up that I mangled my rear step bumper on. I drove over and dropped down off the rock just fine.. everything except that bumper sticking out the back! Oops.
We pulled off were we had aired down that morning, and took another head count. I aired up my tires in the rain, and then informed Steve that I was heading home to Helena to hunt down a spring bushing. The others took off for Boulder, and I raced home, only to NOT find a new spring bushing.