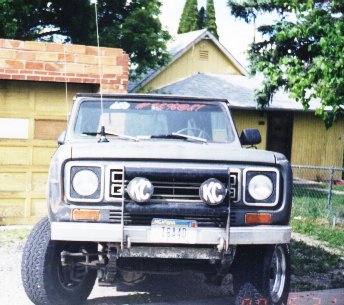 ---
6-6-1998
I've updated some stuff! Head over to my '77 Buildup page for pictures of what is was like, and for glimplses of what's to come. I guess I need to start an "archive" of sorts for my past musings..

Yes, this page is grossly out of date.. and as soon as I'm done putting the close ratio T19, new clutch, twin-stick'd Dana 20 transfer case, front Lockright locker, and hand throttle into it.. I'll come back here and update with new pics, noting the 4" Softride lift, the on-board air compressor, the full BesTop soft-top, the stereo, and everything else I've done to it.. but that might have to wait until after the Divide Ride 4x4 Jamboree June 11th-13th..
---
I added On board air to my Scout. I can now fill tires, play with my blowgun, or use an impact wrench all from a little fitting under the hood of my Scout.

I'm also planning on installing my handthrottle to help keep the revs up when I'm using the compressor, plus make rock crawling a little more fun.

My next plan (aside from the lift) is to relocate my windshield washer bottle so that I can mount a second battery next to the heater core on the passenger inner fender.

I installed a new N.O.S. Holley 1920 carb on my Scout after returning back from the NW Binder Roundup in '97.. the old carb managed to loose the bolts that are supposed to hold the throttle body together.. and it resulted in a huge vacuum leak that made the poor thing run terribly!
---
My second Scout has claimed more $$$! First, my starter was missing the upper bolt.. and at the same time, developed a "dead" spot.. so I blew $65 on a rebuilt starter, solenoid, and an extra bolt.. some un-fun time in the rain, and I had 'er running again, and now it doesn't not-start in the grocery store parking lot! I also purchased a Smittybilt Bumper Thumper, and installed it. Note: You'll need some 6" carriage bolts to replace the stock 5.5" bolts. Also, sadly, my 6" KC Daylighters didn't fit on the provided mounting tabs.. the tabs are on the top of the middle 3" tube, and when the 6" Daylighters are put in place, the mounting hardware pushes the lights nose down. I had the local driveline shop machine out some 9/16" holes in the side of the 'Thumper, then mounted my lights on their sides. Works pretty well. I still don't have a lot of adjustment in the lights up or down, but I have 'em pretty close, and they do make a noticeable difference at night. Heck, my little gray Scout II looks pretty nice, with a black Bumper Thumper in front, with two 6" KC's, the black Bikini top on, windows rolled down, the retread mud/snow tires, factory hub caps (thanks Sele Scull!), and the numerous dents. Looks like it's time to run the Baja.. or something like that. I just need the SSII door inserts, and I'd have a real looker! :-)
Well, some upgrades have taken place to my "new" '77.. I purchased another roll-bar from Giddum Up Scout early in May, then over a one and a half day period, prepped, primed, painted, installed the roll-bar, then removed the top and drilled holes for the Bikini hardware! Whew.. This roll-bar fit better side-to-side, and my rear seat goes up and down. I also learned to drill two holes in the fender-mount plates, then used my Hi-lift to raise the body up, and get my drill in through the wheel well to drill the other two holes I couldn't get to from the top. NOTE: removing your wheels after putting your Scout on jack-stands would work better, but that requires more effort than just jacking it up.
Well, my "parts Scout" finally arrived on 4/12/97. What a beauty!
| | | |
| --- | --- | --- |
| 1977 Scout II, 120k miles | 196 4cyl from 75+ Scout II, 100k miles, with new bearings and other misc items, H.O.oil pump | 3spd, in good condition |
| Dana 44 front with discs, 4.11s, 100k miles behind a 4cyl, new brakes | Dana 44 rear, drums, 4.11s, 4k miles on Track-lok, 100k on axles, new brakes | New clutch |
| Power brakes! | New brake master cylinder | new windshield |
| Nice headliner | better (not great) mirrors | Good front and rear bench seats |
| 3 factory seat belts up front, 2 in the rear | factory "Gripper" H78 Mud/Snow spare tire! | 19gal tank |
| New 235/75R15 re-cap mud/snow tires | Clean, good condition seat covers | Broken passenger windshield wiper |
| Only ONE (1) lift-gate arm.. | Factory Step-bumper w/ ball hitch | |
| | | |
In short, I find myself wondering why I should part this thing out.. so it looks like I'll be keeping 'em both!
The 4cyl is tolerable.. not as much get-up-n-go as the 304, but good 'nuff. 18mpg ain't all bad, either!
Oh, I paid a whopping $700 for this baby! All it needs is a dent-free body, and it's a great rig! I prefer the 304 most of the time, but the wallet is getting sick of visiting the gas station..