Montana 4x4 Associations Divide Ride '98 Jamboree
The M4x4A held it's first official state-wide Jamboree on June 11,12,13th of 1998. Since my club (Frontier 4x4) was hosting the event, and it was located in Boulder, MT - just 30 miles from home, I (naturally) decided it was a must-do!
Preparations began a long time back, but we were all eagerly anticipating the day of the event. After pre-running the Lava Mountain trail with Mike and Loretta Kelly, I took the opportunity to make some "enhancements" to my trail rig - a 1977 IH Scout II. I started on Wednesday, June 3rd, by yanking my 3spd and Dana 20 out. Wednesday the 10th, found me slipping my transfer case back into the Scout around 8pm - after adding a Lockright locker to the front end, and trading the 3spd for a close ratio T19 4spd. I failed to get my modified transfer case completed in time, but the new tranny (and clutch) was in, and the truck ran.
At 10pm, I had thrown every tool I thought I might need into the back, grabbed my sleeping bag, a tent, a hotplate, my cooler, marshmellow roasting tines, plates, a mess kit, and anything else I could think of! I stopped off at Albertson's and bought two loaves of bread, some hotdogs, some lunch meat, n' some cheese, then raced to Boulder.
I pulled into Boulder around 11pm, tired but excited. I had missed out on the preparations the weekend before (I was busy manhandling a T19 into place), so I wasn't sure where to go. Steve Slagle walked out of the restrooms to his Jeep, and told me where (about) to go. I thanked him and noted that my backup lights were working (I guess I hooked the right plug up to the tranny) and then motored over to the camping area.
I pulled down the first aisle, and found a place to park my Scout. I climbed out, and started to re-arrange my belongings - I'd packed in such a hurry, everything was literally thrown into the Scout. I started rearranging things to at least make room for me to sleep!
As I was getting things organized, Bill Pries from Bozeman walked up. I'd been on the pre-run with Bill, and I think he's a great guy. We spoke for a little while, along with a few other Bozeman club members. I then started unpacking and repacking my 'Binder, getting things situated in a manner that would keep my belongings from causing me bodily harm on Thursday.
Around midnight or 12:30, I threw the rest of my stuff back into the Scout, and then unrolled my sleeping bag on the front bench, tossed a pillow against the door, and crawled in for some sleep.
I was up early.. 5:45am. Registration started at 6, and then trail rides left at 7am. I didn't want to be late!
A quick trip to the restrooms, then a little more repacking of the Scout, and I was asking "Where's the registration desk?" and then on my way to the large white barn on the end of the fairgrounds.
Kathy Gordon and Stacey Schessler were manning the registration desk, and welcomed me "Good Morning" and handed me my packet. I found Don Gordon and asked "Where do I want to go today?" I signed up for the Tizer Lake run led by Steve Slagle, but as the rigs lined up, we found we had 11 hosts, and 10 non-hosts in the party, so I volunteered to hang back, and join Mike and Loretta Kelly on the Lava Mountain run again.
After being introduced to Brent Ross, covering the event for 4WD&SU, I tried to get somewhere in the middle rear of the pack, but ended up at the very end. Around 7:30am, we rolled out for Day 1's Trail Ride.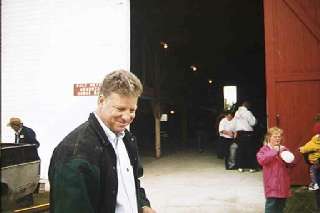 Brent Ross from 4WD&SU - this was actually taken on Sunday after the pancake breakfast
After returning from the day's ride, we were all a bit tired but quite happy. I stopped off at the gas station on the west end of town to put nearly 10 gallons of gas in my 4cyl 'Binder. I then stopped at the small grocery store in town that had kindly donated the ingredients for Sunday's pancake breakfast. I was sure to inform the kind grocery store clerk that I was with the 4x4 club, and I appreciated his involvement as he directed me immediately to his collection of (almost completely sold out) 35mm film. I had left town not knowing if my camera was under the pile of junk on my back seat or not, and as such, had opted to not buy film on my way out of town.
I pulled into camp, and parked next to the Gordon's motor home, and sauntered over to the registration barn, munching on a fresh apple I had just bought at the grocery store. Kathy asked if I'd had fun - the big grin on my face answered her question. I was also scolded a bit for not taking Kathy and Don up on their offer of a bunk in the motor home.. I explained it was a bit late when I rolled in, and the Scout wasn't that uncomfortable.. but I did take her up on the offer the remainder of the event!
Mike and Loretta were inside the barn resting up from the trip, and asked if I'd like to join them for pizza at the local pizza joint. I gladly accepted their offer - I'm always glad to spend time talking shop with Mike and Loretta - I usually learn something.
A quick drive (1 mile? less I think) back into town, and we were enjoying some pizza - though not the Anchovie, Saurkraut, Green Peppers Mike had joked about at first. I took the opportunity to relieve myself, as well as wash the mud I had collected on my glasses (from splashing puddles on the frontage road into town, while having my 4spd shifter boot off) off.
We had a very engaging conversation about what I had been up to with the Scout, and our personal opinions on how the first day had gone. We were all pretty pleased with the atmosphere and excitement. I (naturally) had to pump Mike n' Loretta about just how far up "Mike's Hill" I had managed to scratch n' claw. I explained my panic and fear when I had messed up the threads on my front differential bearing cap, and how the new front Lockright and 4spd had performed (admirably!) on the trail - and how happy I was becoming with my 4cyl Scout. Everyone agreed all I need to do is find a V8 to throw into it - and I'll be dangerous. Loretta kept trying to figure out how it was I was related to Mike - since I seem to be a mirror of a younger Mike Kelly, including the places I drive to around town to play with my 'Binder.
We finished up dinner, and Mike & Loretta returned to their hotel room to wash up before the Ice Cream social. They offered me a shower which I declined (Thanks guys... but did I really smell that bad? :-). I headed back to camp to see what was up.
Back at camp I discovered that Don Gordon, Bill Pries, and Mike Jongeling (from Bozeman) had attempted to break open the Leadville trail - our hardest trail on the list, primarily because it was covered in such deep snow as to be impassable to the various pre-running teams we'd sent up! I tried to hail them on the CB a few times, but they finally pulled back into camp around 7 or 8pm - Mike's 80s Bronco had broken a front axle shaft, and they had abandoned Don Gordon's '79 Bronco for a while as well, as the three of them and their passengers concentrated on getting Bill's '78 F250 w/ 35s and Lockrights through the trail. Bill's 12,000lbs Warn got a real workout that day, and even still, a lot of shoveling took place, as well as a good bit of customizing of Bill's passenger side sheet metal - the downhill side that met the trees.
I made my way over to see Milo and his Travelall (He is, afterall, a fellow Binder enthusiast).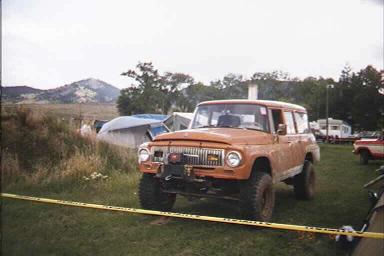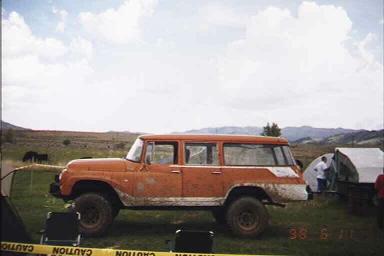 Milo's Travelall - 345V8, T98 granny 4spd, Chevy Corp 14bolt and '44, add-a-leaf front, inverted rear shackle, 35s, open/open
I wandered around for a bit, then decided it was time to finish trimming my darn passenger rear inner fender. I fired up the Scout, attached my air tank, kicked on the onboard air, and proceeded to take my air grinder to the inside of the fender. A half hour later, I had the offending hunk of sheet metal in my hand, and I tossed it into the trash in the barn, as I wandered over for my turn at the free ice cream, served up by Loretta Kelly and her childern.
I took the opportunity to wander around and meet new people. The ice cream was soon over, and the crowd began to thin out after the "Driver's Meeting".. I wandered over to the bonfire, and met more wheelers, including the famed "Uncle Vic" who was the only person to very kindly relieve me of a few marshmellows. I always buy one or two bags of 'mellows before leaving on a camping type trip - and I seem to only eat a dozen or so, and the rest get stale a few months later!
Around 11:30 or so Tyler Gordon and I had finished B.S.ing, and we wandered over to the motorhome. I crawled into my sleeping bag, and spent a sound night sleeping.
Around 6am Friday morning I awoke to the familiar sound of a glasspack'd Jeep rumbling softly by. Ahhh.. must be time to get up! There's fun to be had out there!
After washing up a bit in the bathroom, I wandered over to the registration desk. It was cold! I had my t-shirt on, along with my Chamois, and I was still cold.. I think I finally grabbed my jacket that morning. Anyhow, I asked Don where I was going again, and this time I chose Tizer Lake again, with Steve Slagle. As I poured myself a cup of coffee and munched on a muffin, I was introduced to Steve Slagle's daughter Jennifer and her fiance' CJ. We all lined up, and headed off on Day 2's trail ride.
After the trail ride I headed back into Helena to try and locate a new poly spring bushing - hah! Maybe if I had a particular type of Ford I could've found bushings.. but not for a Scout II! It wasn't a wasted trip - I stopped at home to put the 4spd shifter boot on my transmission, take a shower n' wash up, and move the engine hoist out of the middle of the driveway (I had just driven over it on my way out of town).
I stopped off at Taco Bell for some grub, and at the gas station to fill up, then motored back down to Boulder as quick as can be.
I was asked again if I'd had fun - you betcha! Take a look at my rear bumper for proof! Of course, I wasn't pleased that my front shackle bolts had lost their nuts again.. but I'd stopped at Rockhand for new bolts while in town, and I was ready.
Loretta was dishing out ice cream again.. yumm! After the Driver's Meeting, the Karaoke machine was setup, and the singing began. A club member's son Francis, won the 50/50 raffle - and was forced to sing on the Karaoke machine prior to receiving his prize. Late in the night, a couple arrived from Woody's Racing Team from Vancouver.. with some door prizes to donate, and one Karaoke willing gentleman.
We finally packed things up, and headed to the campfire, then bed. I was tired, but havin' fun.
Glasspacks brought me awake on Saturday morning. This was the big day, the last day of trail riding.
I signed up for Horse Gulch, but the group was getting pretty big again, so I opted to lend Mike Kelly a hand on the Lava Mountain trail once more. I really enjoy driving the Lava trail - plus half the fun is the friendly and lively banter on the CB that's present on Mike's runs.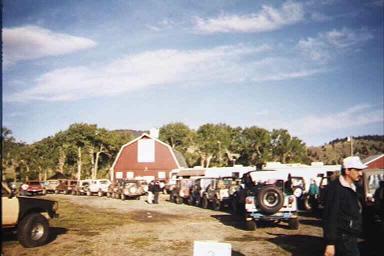 Lined up for Saturday's Lava Mountain run - Tom Wood of Six States Distributors is on the right
In any manner, the 20 or so rigs in the party rolled out of Boulder near our scheduled 7:30ish time frame, and Day Three's trail ride was rolling!
We returned from our trail ride around 6 or so. plenty of time for the Pig Roast.
The Bozeman Mountaineers were in charge of the dinner. We gorged on two roasted pigs, beans, potato salad, and loads of deserts.
After dinner, Steve Slagle began calling out the door prizes. Bill Springer from Billings picked up a hat early on, as did "Uncle Vic." As the prizes went out, the crowd dwindled just a bit until the final few drawings - for the tires, the Lockright, and the winch! Don Gordon won a set of 30x9.50 tires, while Uncle Vic, who had been pricing tires earlier in the week, won a nice new set of.. 33x12.50s? Or were they 35s? The Ramsey Pro 9000 was saved for last - and Bill Springer was the lucky winner!
With the raffle over, folks filtered out of the barn as the DJ pulled their Chevy S-10 Blazer inside and setup the stereo equipment.
The music n' dancing started - Brian and Joan Lewis started the dancing, and the fun began. A half hour or so after the music started, the kind gentleman from the local grocery store dropped off a few cases of free beer.
The music and dancing continued on through the night 'till about midnight. I filled the time with conversations between myself and the Kellys, the Gordons, Rob St. Clair, and Mark Pickles. Topics revolved around a Washington trip, a Moab trip, our thoughts on the Divide Ride, and discussions about trails in western Montana.
The DJs packed it in at midnight, and we migrated out to the fire for a little longer before finally calling it a night.
Sunday morning I was up late, rolled up my sleeping bag, and tossed it into the Scout on my way to the barn for breakfast.
We all enjoyed a great pancake, ham, and egg breakfast. Around 9am breakfast was over, and we hosts started the cleanup of the barn. By 10 to 10, the barn had been swept and hosed out, all of the decorations down n' packed up or thrown away, and the picnic tables ordered in nice rows. By 10:30, the fire pit had been dismantled, and we were all looking around for something to do.
Don Gordon as the cleanup comes to an end - wearing his Trail Boss hat
We wandered over to my Scout, and I kicked on the on-board air, and we aired up my 'Binder and Mike's Early Bronco. I then wandered around for a few minutes with the Kellys, saying good-bye to the St. Claires, Don Harden, and a few others. We wandered back to our rigs in time for me to lend Don Gordon a hand getting his '79 Bronco's towbar lined up with the hitch on their motorhome. Once that final task was done, I fired up the 'Binder, and headed home.
I paused at the gas station in Boulder to fill my coffee cup, and said a final goodbye to "FRDZLLA"'s drivers. They left the gas station before me, but unloaded, my Scout was able to pass them on my way up the Interstate as they were headed home to Great Falls. One final wave, and I was zipping home.
I made it home around 12:30 in the afternoon - beat. Unfortunately, I caught up on my email, and started writing these trip reports, and didn't make it to bed as early as I had wanted to!
All in all, I had a BLAST, and I'm hopefully looking forward to a second Divide Ride. To all of the new friends I made over the weekend, "Hello!" and I look forward to seeing you again. My new spring bushing should be here by Friday.. then to just find a power steering cooler, and fabricate a new rear bumper to replace my mangled step bumper. Doubly important since I punched a hole in my aluminum shed while turning around this morning.. :-)
Hope we can do this again everyone!
-Tom Mandera, early on the morning of June 17th, 1998
Frontier 4x4, part of the Montana 4x4 Association
Pictures will be added as soon as they're developed!
---
6-19-98 - added pics to Day3, and to this page.. have a few more for the Tizer Run on the 2nd to add.. probably on Sunday
---
My Scout, after the events: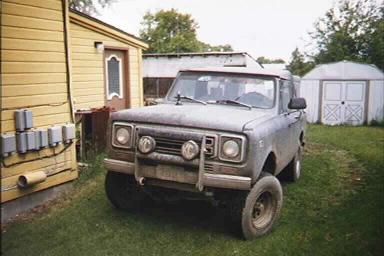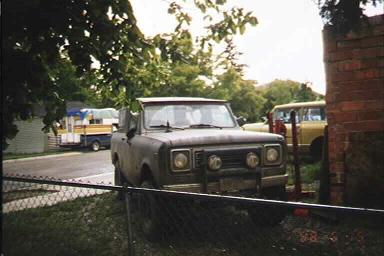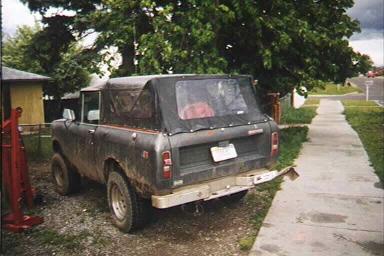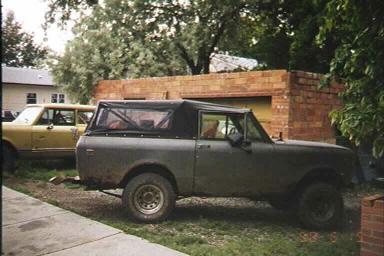 Warning! Don't walk too close to my rear bumper! I've already punched a hole in my shed with it (sticks out farther than I remember!) Also notice the engine hoist sitting in the driveway still..