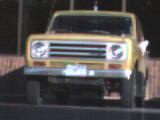 Tom's Tech Tips
Well, here's my collection of tips n' tricks that I've learned through my Scout II Fanaticism.
Alternators are GM / AC-Delco "Delcotron" alternators. Go grab a bigger GM One-wire and upgrade your charging system. No problem-o
Of course, the power steering unit is a Saginaw unit (GM used 'em a lot)
Up until 1975, Scouts came with Dana 30 (1/2 Ton) front axles, and Dana 44 (3/4T) rear axles with DRUM brakes all around. If you're in the market, buy a '75 or later, get the D44 front, and the disc brakes. (actually, '74 had disc brakes on a Dana 30)
The Electronic Ignition in the '75 and newer Scouts has a tendency to fail repeatedly, but ONLY if you leave your truck's ignition ON without the engine running.
All Scout II's came with the Dana 20 (2.0:1 low range) transfer case, except the 1980 models (Dana 300, 2.6:1)
Rectangular 6x9" speaker boxes fit very nicely between the roll-bar and rear seat arm rests.
Be careful when installing a roll-bar.. watch so you can 1) get your rear seat folded down, and 2) get the plastic hard-top inserts out and in without tearing 'em up. (I didn't...)
In the passenger side rear-corner of the bed, a connector runs power up from the body tub to the hard top for a dome light, etc.
Beware of rust in the rear of the front fenders! I have almost $700 worth of rust to repair..
Back to FAQ