It all started innocently enough at
RMIHR 1998
with John and Pansy Comer. By August of 1998 I was building a racer.
I started with two Scouts donated from Senior Bob Bradley - one that was rolled, one that was Blair Howze's worn-out racer.
I spent 9 months preparing the two Scouts - dismantling and disposing of one, getting the other ready, and in the span of a
week
mostly put it together.
On
July 4th, 1999
I took Little Devil to Cascade, Montana for the first race.
I pulled in, flat-towing, and handed Blair the front driveshaft and a box of U-joints that needed installed.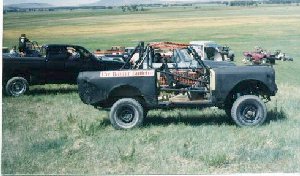 I had a used 304, rebuilt 727, full width 4.88 Dana 44s, a rollcage, a plastic bucket seat, a flex-fan, and 235/75-15 snow tires.